My Woodies Story
I've been ordering made-to-measure clothing for about 13 years now. As a 6' 4" tall guy with slim build and extra long arms, I would describe my experience with wearing off-the-rack clothing—and dress shirts in particular—as a slightly embarrassing experience, feeling either like I was wearing a sail (you know, with the sides of the shirt flapping in the breeze) or like I was a teenager in a growth spurt with the sleeves only reaching half-way down my arms. You can hide too-short shirt sleeves by rolling them up, and you can pay an extra chunk of change to get shirts taken in, but you're still left knowing that off-the-rack clothing retailers don't really care about you—you're not the customer that they're making clothes for. So, when I discovered online made-to-measure shirts and bought my first one, I was hooked.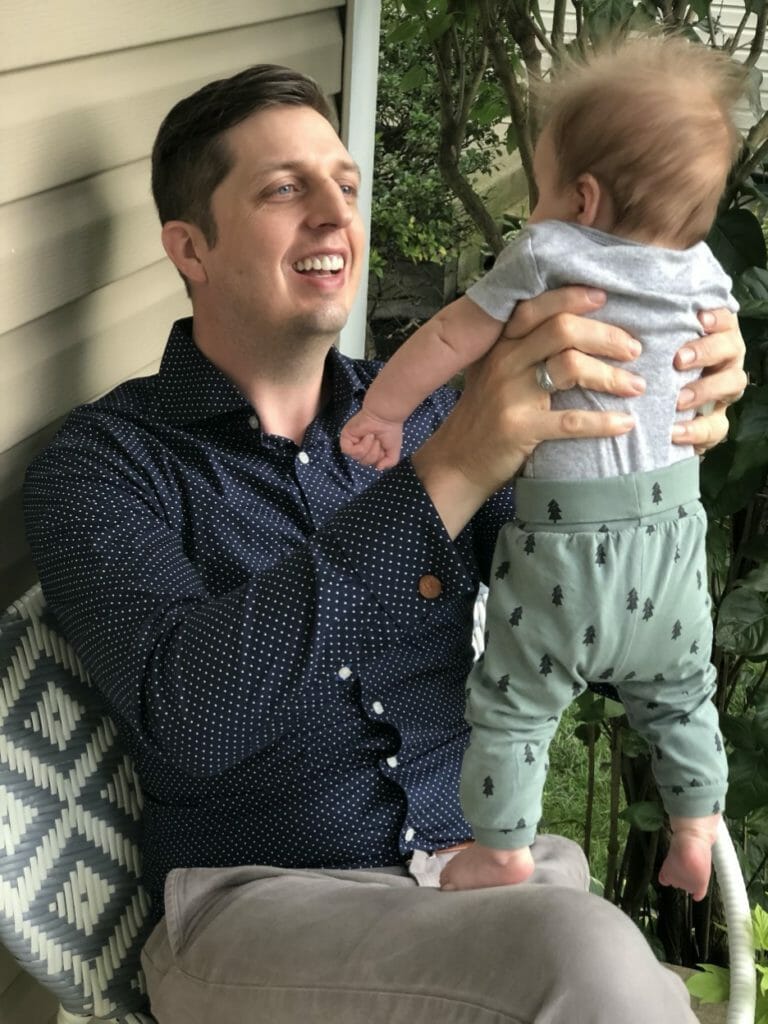 If you don't happen to be among the lucky few who have body proportions just like those used by most retailers and you've never worn a piece of clothing that was made just for you, you probably can't imagine the immense satisfaction of putting on something that doesn't tug, billow, or pinch, despite the fact that it's trim and fitted. When you put that sucker on, you almost don't care whether you get any compliments on how good you look, because you can already feel the confidence flowing from your neck down to your wrists (that's right, because now your shirt actually reaches to your wrists). And those compliments just confirm that you really do look as good as you feel. And if you have already tried MTM clothing, then you've probably realized what I have—everyone looks and feels better in clothing that really fits.
Everyone looks and feels better in clothing that really fits.
That first shirt became two, then half a dozen, then more, followed by MTM slacks, coats, suits, and more. I tried half a dozen different MTM companies, often with good or very good results. When I first learned about Woodies, I wasn't actually looking for a new company to get my shirts from. A few years previous to the Woodies launch, I met the founder, Jacob Wood (then an intern at a well-known clothing brand), and he and I bonded over our appreciation for the dapper arts of quality menswear. We kept in touch, and when Jacob launched his first Kickstarter to begin Woodies, I figured I'd pitch in and support his project, primarily wanting to support a friend, but also open to possibilities. I knew that Jacob appreciated quality the way that I did, and I also knew that with his previous years in retail, he had the background to know what issues there were with the off-the-rack experience, what to do about it, and the logistics to make it happen.
I was more than a little excited for the arrival of the first shirts I had ordered from supporting that campaign (remember, I'm the guy who just waxed poetically about putting on made-to-measure clothing for the first time). I remember that I ordered a blue striped and a grey gingham, both slim, french-cuffed (gotta love the links!) with spread collar. The packaging looked sharp, the shirts were presented well, and the Woodies logo looked cool. All great things, but how did they feel? In the words of Mary Poppins, practically perfect in every way. When you first start ordering from an MTM company, you can expect an adjustment period while you try to figure out their fit, changing a measurement here or there for each subsequent order, even if you're experienced. My Woodies fit better than anything other place's shirts the first time, and on top of that, I loved the fabrics, both beautiful patterns with the right amount of weight and softness. I had great first impressions, and they've frankly just gotten better.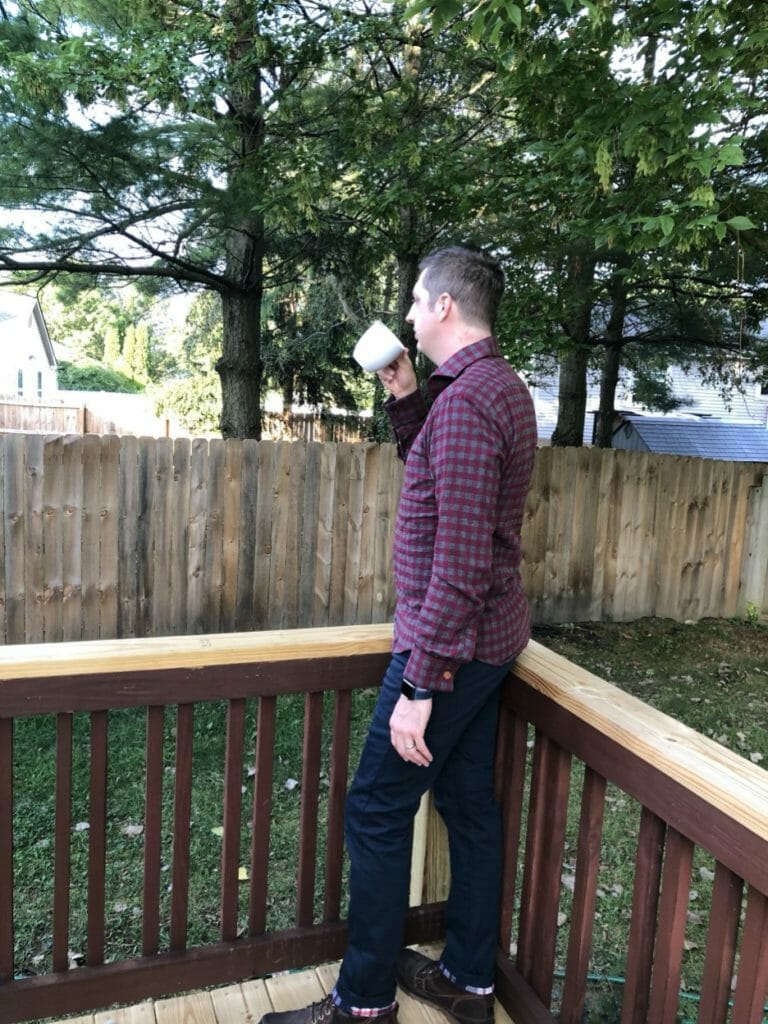 I have three requirements when I am trying something out from a made-to-measure company. (1) The patterns and colors are ones I'm actually interested in wearing. (2) Their products don't break the bank. (3) The item fits. (4) The quality of the fabric and the constructions gives me confidence it will wear well.
It might just be my sensibilities, but I feel like Woodies has the highest number of fabrics, patterns, and colors that I want. Every time I purchase a new shirt, I find myself adding multiples into the cart and having to make a decision. Jacob and team have done a great job sourcing both professional and interesting fabrics that I want to wear—note again a difference between them and standard retailers, at least for me. That grey gingham is still one of my favorites, but I've added the blue and white dot, windowpane, flannel and others.
Woodies is reasonably priced. If you're used to buying shirts at the same place you buy groceries, you might not feel that way (I'd also be surprised if you were reading my story here if that was your preference). For me, I looked at what I was normally paying—$50-60 for an ill-fitting shirt with arms that were a bit short, plus an extra $25 to get it taken in on the sides—and I was pretty much spending the same amount on an inferior product as a better-fitting, better-feeling, better-looking shirt from Woodies. On top of that, with several of the other MTM companies I've ordered from, you spend extra for little additions or design changes, but at Woodies, you get some pretty awesome extras without spending extra, like a looser cuff for your watch hand.
It might just be my sensibilities, but I feel like Woodies has the highest number of fabrics, patterns, and colors that I want.
When you're going MTM, fit is likely your primary criterion (note that it is for me, too, but I've listed it third because I won't even order from a place unless the fabrics and the price are right). Here, Woodies has the best experience I've had—and I'm coming from a set of good experiences, too! I mentioned how good the fit was for my first shirts. I did make a few adjustments to my measurements to perfect the fit in subsequent orders, and also to account for changes in my size (hey, dad's have a hard time losing baby weight, too!), and as happy as I was with the first shirts, I was even happier with subsequent ones. With the addition of the stretch performance shirts, I have a hard time imagining ordering from anywhere else. And, you can't overlook Woodies' perfect fit guarantee. It's real! It's awesome! I'll tell you more about that later. For now, suffice it to say that you can be confident you'll end up with a great fitting garment.
The other thing that struck me with those first shirts was the quality of the fabric and construction. You'll find some important pieces that you may not notice unless you've worked in clothing retail or textiles (or have a master seamstress for a mother) that make Woodies clothing great, like French seams (they're important, trust me), removable collar stays, and well-sewn-on buttons that don't fall off or shatter after laundering. The interfacing on cuffs and collars is just right, stiff enough to hold its shape, but soft and flexible enough so that it doesn't get brittle with age and cause premature wear at the collar and French cuff folds. I've loved the feel of the fabrics, soft and weighty, while providing enough structure to make it feel professional and masculine. I'm not one for visible monograms on my shirts, so I opt for the well-designed detail of the monogrammed tag.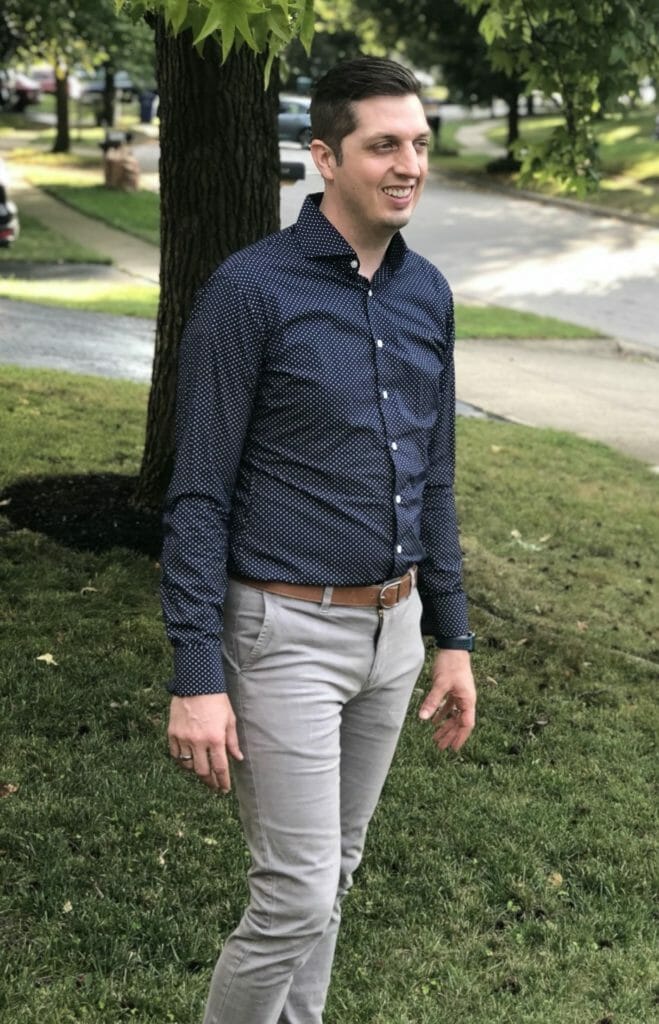 One thing that I have loved with Woodies that I haven't experienced with any other MTM company I've used is the continued improvement in product offerings. Every one of the MTM companies that's still in business that I've used has added additional products and fabrics over the years. In that, Woodies isn't an exception. I just feel like their expansion has been done exceptionally well, moving into new products while offering the same quality and customer service that I had come to expect before, and on top of that, they've added some products that I don't think many others have. My new favorite products are the stretch performance shirts (once you go stretch, you can't go back!) and the flannel-lined chinos (so awesome for those Ohio Winter outings with the spouse or family). I always look forward to seeing what they've got next.
Woodies started with shirts, and since I've been buying from them since the very beginning, that's where I started with them, too. As they expanded products, I gave those a try, too. I was excited for the stretch chinos. I used to travel a lot for work, and I was always on the lookout for comfortable, business-approved pants (and shirts) that I could wear on the plane without clothing pinches that required those embarrassing adjustments. These sounded like they fit the bill. So, I ordered them following the same process as the shirts and looked forward to them with the same anticipation.
My experience when the fit at Woodies wasn't perfect has given me every confidence not just in the clothing, but in their customer service, too.
Well, the chinos didn't fit quite so well as the shirts when I first got them. Frankly, that kind of thing sometimes happens, and it's where a MTM company really gets the opportunity to show you what they're made of. I submitted my pictures and description via Woodies' help page under their Perfect Fit Guarantee. I received a quick response from Jenny, and after exchanging a few more pieces of feedback, she made some adjustments and sent the remake order to the shop. The second pair came with things just as requested. In fact, I had mentioned that the color of the original pair didn't match what I thought it looked like on my screen, and it really wasn't one I liked, so we changed the color on the remake. And to make things real simple, I was told I should donate the first pair, so it was easy enough to put them into my donation pile. I'm not sure if there are other MTMs that do full remakes, but the ones I've used haven't—they'll give you a credit on your account for the amount you spend on alterations, or something to that effect, but that's just not the same thing. My experience when the fit at Woodies wasn't perfect has given me every confidence not just in the clothing, but in their customer service, too, and my friends to whom I've recommended Woodies have had similar experiences.
If you've made it this far, you must be as serious about well-fitting clothing as I am (or as desperate as I was when I first switched to MTM!). You can probably tell that I'm a loyal customer. I won't go so far as to say that Woodies products and service is perfect, but it's pretty stinking good. And I won't go so far as to say that I won't wear other brands of dress shirts, but I find it pretty telling that I don't really want to.
—Parker
…
shop woodies