How to Find the Perfect Pair of Jeans – Menswear Guide
Here's everything you need to know about how to find the perfect pair of jeans for your everyday.
Feel free to argue with me on this, but you can't convince me otherwise: denim is the most versatile fabric on the planet. It pairs well with everything from white button-down shirts to your granddad's old Carhartt flannel; it looks just as good on a dinner date as it does when you're outside in the cold, chopping wood for a log fire; and it looks even better after you've worn it in for a few years and really made it yours (just ask Shia Labeouf). Hell, it's even hard to screw up a denim-on-denim look. Nothing else in your closet will have quite the range of good denim, which is why a solid pair of jeans is an essential building block of any wardrobe.
Whether you're shopping for your new favorite pair of jeans or are looking to step up your look, here are a few tips to help you find the right pair of jeans for everyday wear.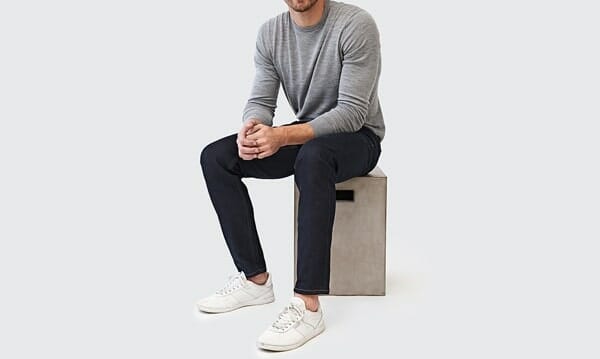 1. Find the Right Fit
There's a secret to why some guys always seem to look good, and it's not money: it's fit. It's a universal fact that you'll look better in a pair of $20 jeans that fit well than you would in a pair of $300 jeans that are too tight or too loose. If you're trying to upgrade your wardrobe, don't feel like you have to spend a whole bunch of money to do it. Take a few extra minutes to research your size, and if you order online, don't be afraid to make an exchange or two until you get it just right. With a pair of solid-fitting jeans, you'll have enough confidence to go out and conquer the world, even if they were dirt cheap.
The most common mistake most guys make when buying jeans — and clothes in general — is ordering a size too large, which creates a baggy, sloppy-looking fit. If you're ever in doubt as to how something fits, try ordering a size smaller just to see how it fits. Additionally, make sure the bottom hem of your jeans hits around the ankle to avoid any clumps of fabric from gathering around your shoes. These tips are simple, but will help make you look like you got dressed with intention in the morning, even if you just threw something on.
At Woodies, we make clothes right to your measurements so you don't have to worry about anything in this first step — we take care of it all for you. Just take our easy, 4-step sizing quiz and let our algorithm do the rest. We also offer a perfect fit guarantee, so if for whatever reason you're not satisfied with the fit we'll make another pair for you on the house. You can check out our selection of jeans here.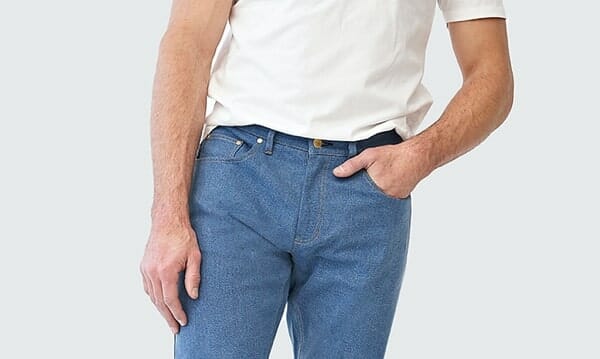 2. Select the Right Wash
All blue jeans are not created equal. When shopping for denim, it's important to consider where you're going to be wearing them and what message you want to send so you can pick the right pair for your everyday wear.
Generally speaking, darker blue jeans are probably your best bet if you're not totally sure what to look for or if you're just starting to build a closet, because these transition from casual to semi-formal situations better than a lighter wash would, and work well year-round. Lighter wash jeans look great in warmer, sunny weather and are inherently a bit more casual than darker jeans, but they might look a bit out of place if you're wearing them in the fall or winter months. Of course, you can always pick up more of a medium wash if you're looking for the best of both worlds.
It's also worth noting that a different shade of denim is an easy way to refresh some of your favorite outfits. A white button-up with white sneakers looks a whole lot different with dark jeans than lighter jeans, so if you ever feel like your wardrobe is getting a bit stale, try picking up another wash for an easy win.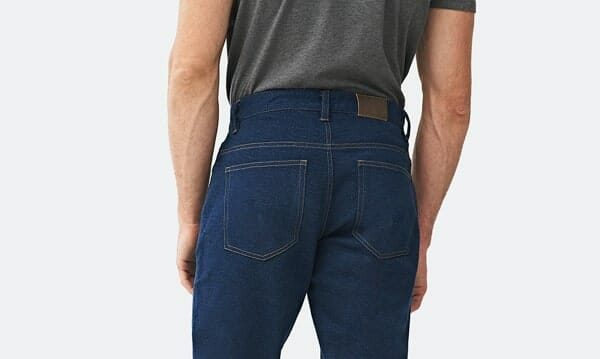 3. Make it Comfortable.
There's a few reasons guys tend to order a size too big, and one of them is comfort. Nobody likes to have a limited range of motion or feel like the family jewels are being crushed. Fortunately, most (good) denim now includes just a hint of stretch so you can wear these all day without any pain below the belt.
For example, our denim is made with a perfect blend of 98% organic cotton and 2% elastane to give you the authentic denim look with the comfort of your favorite pair of sweatpants. Don't feel like you have to suffer through the day just to look good in your favorite pair of jeans. These days, you should expect both function and comfort in every piece of clothing you buy.
---
Thanks for dropping by! Before you go, check out our denim shop, where we make high-quality jeans right to your measurements with a perfect fit guarantee. (We also make shirts, outerwear, and chinos, if you happen to be in the market.)
Got any questions about how to find the right denim for you? Send us an email!
shop woodies